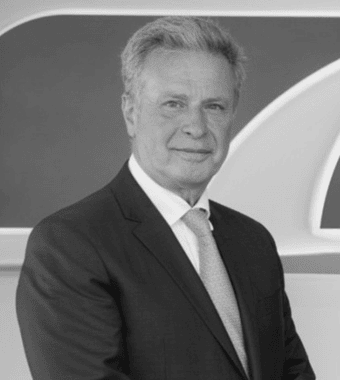 Ioannis is highly specialized in Commercial and Civil Law, Public Procurement Law as well as energy issues, handling numerous high profile cases and serving in roles of high responsibility. Ioannis Tsamichas upon earning his PhD Degree from the University of Naples Federico II, founded the Law Firm 'I. Tsamichas-K. Tzortzidou-L. Kotrotsou and Associates' in 1991.
From 1993 until 2002 he was a Member of the Board of ITATEL SYSTEMI HELLAS SA – responsible for legal services. Moreover, from 2002 until 2009 he was a member of the Board of SIEMENS NST SA. In addition, Ioannis handled on behalf of Calcestruzzi Spa and AGET Iraklis illustrious cases of free competition both in civil courts and the Hellenic Competition Commission. As of 2002 Ioannis is the legal counsel of Finmeccanica Spa-Leonardo as well as the legal advisor in Greece of Hitachi Rail STS overwatching their significant national projects such as the Thessaloniki Metro and its extension to Kalamaria.
Ioannis Tsamichas is also the President of the Greek-Italian Chamber of Commerce in Athens since 2010. Ioannis is the inspirer of the breakthrough project "We export more Greece to 52 countries through 74 Italian Chambers of Commerce", which is on the air since 2011. Ioannis was proclaimed Knight of the Order of Merit of the Italian Republic (Cavaliere Ordine al Merito della Repubblica Italiana) by the President of the Italian Republic Giorgio Napolitano for his contribution to the bilateral economic and trade relations between Greece and Italy in 2012. In the same year as the President of the Greek-Italian Chamber of Commerce he was honored with the distinguished Bartolo Longo alla Carità Award by the Catholic Church, for his continuous focus on pro social endeavors.