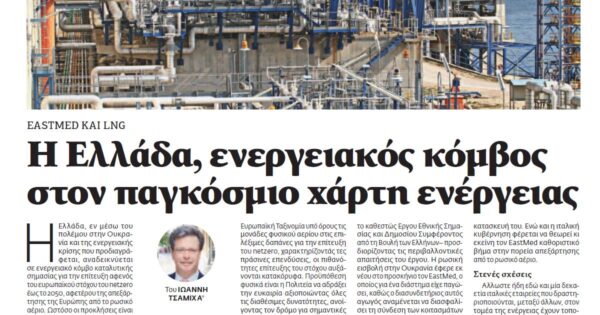 Opinion article by Mr. I. Tsamichas in the Journal of Journalists. Greece an energy hub on the global energy map.
My article published in the special edition of the Editors' Journal for World Environment Day 2022 (4-5 June 2022).
L articolo di opinione del Presidente della Camera di Commercio Italo Ellenica di Atene Cav. Avv. Ioannis Tsamichas è stato pubblicato alla speciale edizione del Giornale dei Redattori (EFSYN) per la Giornata Mondiale del Ambiente 2022 (4-5 Giugno 2022).
Άρθρο μου που δημοσιεύτηκε στην ειδική έκδοση της Εφημερίδας των Συντακτών για την Παγκόσμια Ημέρα Περιβάλλοντος 2022 (4-5 Ιουνίου 2022).
Vede l articolo in lingua italiana:https://lnkd.in/ecPnEucW
https://www.linkedin.com/feed/update/urn:li:activity:6939876831151972352/
Use our online form and book your appointment.
We succeed together fighting for Right and Justice.